01 March 2022
It's Fairtrade Fortnight (21 Feb-6 Mar) and if you have a Fairtrade coffee range, there's no better time for you to tell your customers about it!  Each year, for these two weeks, thousands of individuals, companies and groups across the UK come together to share the stories of the people who grow our food and drinks, mine our gold and who grow the cotton in our clothes, people who are often exploited and underpaid.  This year the aim is to engage, inform and educate people around the urgent message of Fairtrade and climate change, the future of our food and those who produce it. Fairtrade's Choose the World You Want online festival, aims to highlight why farmers in low-income countries need resources to fight the ever-increasing threat of the climate crisis.  There are lots of resources available for you to use including digital assets & posters.
Fairtrade was started in response to the dire struggles of Mexican coffee farmers following the collapse of world coffee prices in the late 1980s.  Today, coffee farmers are facing multiple challenges including the climate crisis which Fairtrade is committed to helping them to fight. Fairtrade Standards encourage coffee producers to protect the environment by improving soil, planting trees, conserving water and avoiding pesticides, while Fairtrade's programmes include climate academies for farmers to share best practice. At the same time, Fairtrade makes training available to producers so that they can use the latest agricultural methods, such as intercropping and shade-grown coffee to adapt to conditions.
1. Consumer awareness, trust and demand for Fairtrade products is high
Fairtrade's mission is to connect disadvantaged farmers and workers with consumers, promote fairer trading conditions and empower farmers and workers to combat poverty, strengthen their position and take more control over their lives.  Today, recognition & trust in the FAIRTRADE Mark is at an all-time high.  In addition, beyond individual consumers there are thousands of Fairtrade towns, cities, villages, churches, schools & universities across the UK who are keen to support businesses offering Fairtrade.
2. Fairtrade is supporting farmers to tackle issues of relevance to businesses and consumers alike
In recent years coffee farmers have been in crises: on the frontline of climate change, at the mercy of volatile prices, and dealing with a global pandemic. Fairtrade has supported its farmers throughout.
The accelerating effects of climate change are precarious for farmers but also for crops. Coffee is sensitive to changing rainfall and weather patterns which causes pests and diseases– but with increased incomes, and with extra funding for big projects there is a lot of producers can do to protect their lands, farming in a way that makes the soil healthier and less prone to landslides for example.
The Fairtrade Minimum Price and Premium is vital because it offers farmers much-needed financial stability, so they can meet their basic needs (food, shelter, school, healthcare), and also protect their communities and the environment. Fairtrade farmers are also more informed – there are many benefits to being part of co-operatives including being able to access new markets and benefit from training to improve the quality of their crop, too.
Farmers need support and funding for Climate adaption, and that's why in addition to the impact of Fairtrade sales – price and premium – the system also invests in and fundraises for multi-stakeholder programmes like our Climate Academies (we have 19 in 6 countries), one of which is in Kenya and we're currently profiling it for Fairtrade Fortnight. Fairtrade Producer Networks run these, and farmers themselves often have the solutions, but they provide training to ensure, coffee farmers have access to the knowledge and tools to tackle climate change. But they cost money.
In addition to this, the international system comes up with many ways we can support farmers, other than through the market, for example the Producer Network the CLAC has set up a Fund for Climate Eventualities and Catastrophic Events. Starting with more than US$200,000, it provides relief support after catastrophic weather events, as well as funds for preventive measures.
Ultimately it goes back to trade justice – farmers need higher incomes to improve their lives, so for example, even if they are not part of programmes, they have the extra money to invest in their farms and grow other crops for local markets, to be less dependent on coffee between harvests, which is good for their land and enriches the soil but also creates the flavour notes we enjoy in our coffee. When farmers are worried about where the money for their next meal is going to come from, they can't be expected to be implementing eco-friendly, low carbon solutions.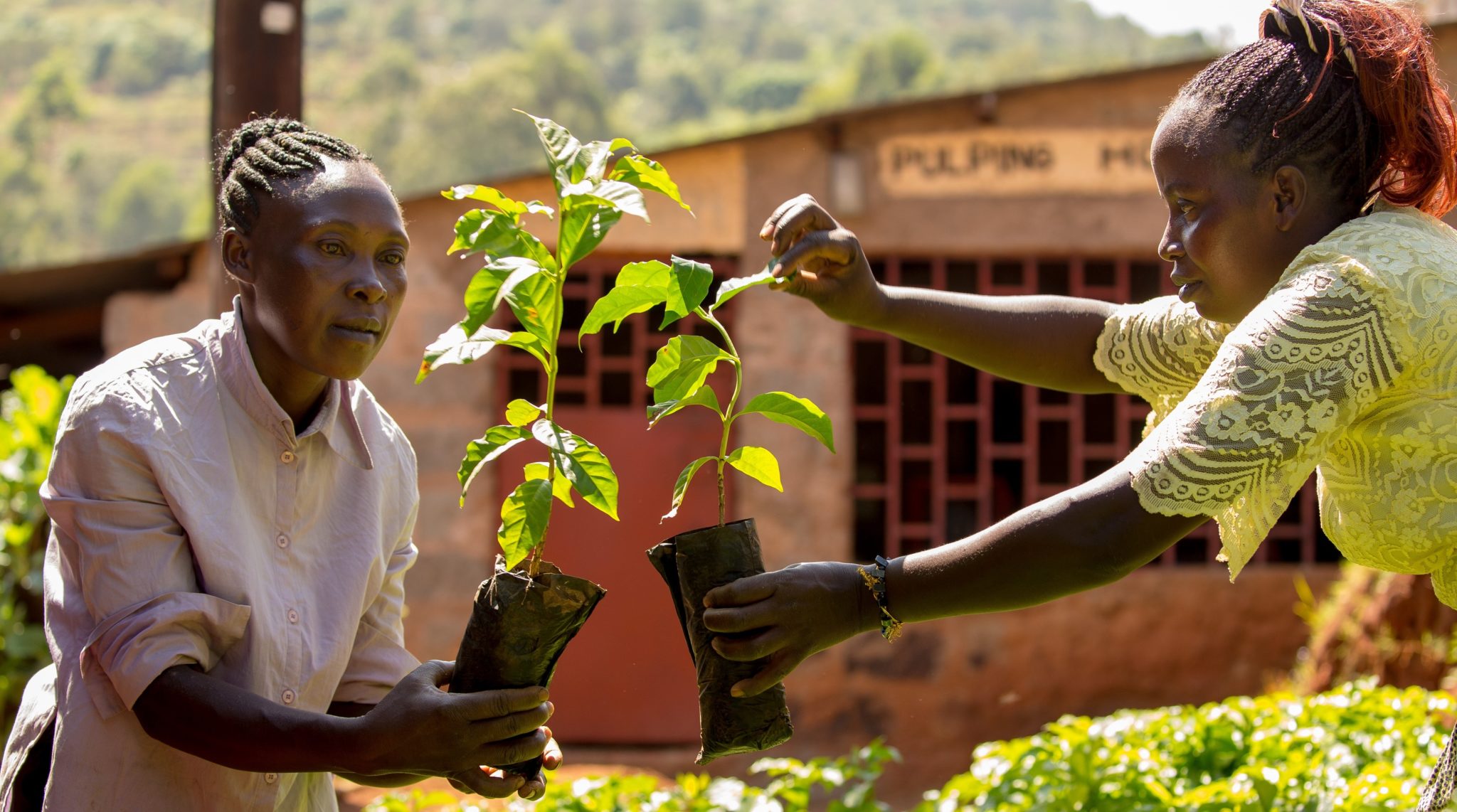 3. Fairtrade coffee farmers invest in quality
Fairtrade coffee farmers invest at least 25 percent of their Fairtrade Premium in improving productivity and quality. In addition, Fairtrade coffee farmers are invited to take part in the Golden Cup competition which brings together coffee producers to compete for the highest quality coffee across a number of categories. In 2021 it took place in 14 coffee-producing countries. In a time of uncertainty, the Golden Cup is a fantastic opportunity for coffee producers to connect with traders and roasters, foster relationships with potential new buyers, and get inspired by their peers. On many occasions, a number of the winning samples have been taken to international trade shows, such as the Specialty Coffee Expo (USA) and World of Coffee (Europe).