08 June 2020
This month we will receive pre-shipment and offer samples for new crop Burmese coffee. This is the 4th consecutive crop we have worked with Myanmar as an origin and it's been a real joy seeing it grow and develop.  We've seen the fruits of their work first hand: during all my origin travel the best drying bed I've ever seen is a Burmese one. The care and attention of post-harvest processing is amazing. You can see what I mean in the picture below.
Myanmar was known as Burma up until 1989 and although they changed the name of the country, the old adjective and nationality form remained as Burmese. It can be quite confusing what term to use but most people use Myanmar when referring to the country and Burmese as the adjective. There are exceptions however, the United States famously still refers to the country as Burma.
Like the terminology, the politics in the country is complex. In a day where the media strive to create an 'us and them culture' and paint everything as black and white, in Myanmar, much is grey. Many consider Myanmar to still be in transition to democracy as the military hold 25% of seats in parliament before any elections even begin. This was a condition they gave when handing over power back in 2015. The military is also in charge of internal security, so the powers of the civilian government is not absolute. This creates more uncertainty around government policy as it's difficult to know how much influence the military or civilian government has. The Rohingya conflict and refugee crisis was in the spotlight in 2016 and 2017 where hundreds of thousands of Rohingya were displaced. In February 2017 the UN published a report condemning the actions of Myanmar's army against the Rohingyas. The wounds of the tragedy remain and a peaceful long-term solution has not yet been crafted: people the world round still hope that a peaceful outcome will be found soon.
As outlined in our first Myanmar blog post two years ago, we work with the farmers, not governments. Many of the farmers we work with are smallholder farmers who themselves have endured various struggles of their own. Denying them access to international buyers and the opportunity to trade was not a sustainable approach in our opinion. While many people turned their backs on coffee producers in Myanmar, we have supported our producing partners with trade. We are still working with the same farms, cooperatives and exporters that we did when we made our first purchase in 2017.
Our coffee purchases are with people in Mandalay and Shan and we did not want to reject their coffee because of the situation in Myanmar, something that they were not involved in and had no control over the outcome of. Our position was not an easy one, as many people were in favour of boycotting any trade with the country. As we in the industry know, coffee is a special fruit because of its power to bring people together, whether that's between countries and communities, or within the home.
Speciality coffee has really helped build long-term relationships between Burmese farmers and roasters and this trade has helped create prosperity and stability in coffee producing areas.
Thankfully, the farmers we work with have continued to produce coffee and through the demand of speciality roasters across the planet, there is a bright future full of optimism. This is the power of the fruit we all cherish and a reminder of the role of international trade. We're happy to see that other importers are adding this origin to their portfolio and help promote the great quality coffee you can find in Myanmar.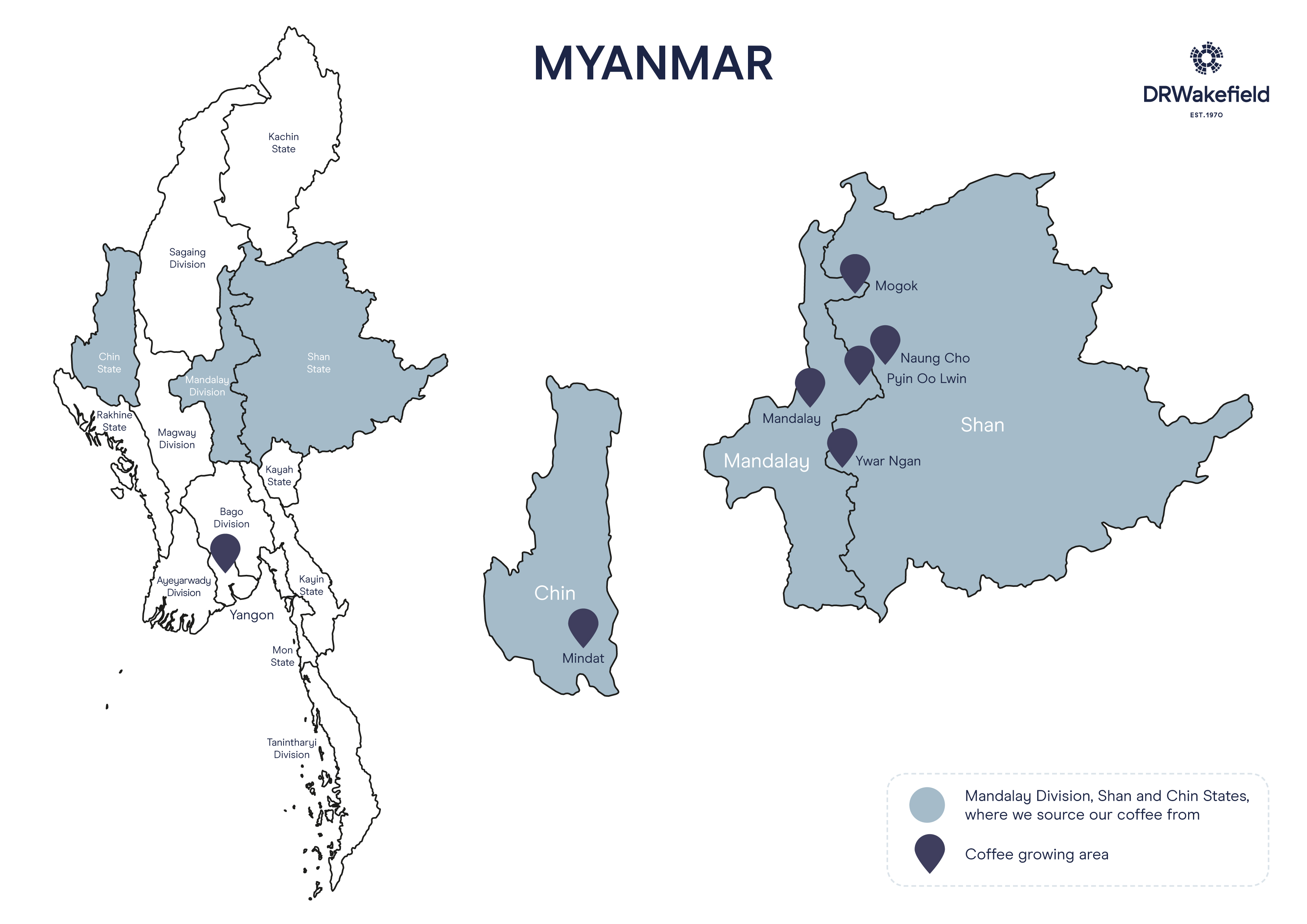 As you can see from a map we created up a few years ago, Myanmar has a very interesting terroir with many coffee areas that the speciality world can get to know and enjoy. Not only does it boast great processing, it also has some varietals that surprise and delight the palette.
Who would have thought there would be SL 34 in such abundance? The country also changed my opinion on Catimor as a varietal; some of the Catimor microlots we have cupped are excellent. I find it lends itself very well to honey and natural processed coffee out there.  If you're interested in learning more about this origin, please get in touch with a trader. We're excited to share the fruits of this crop with you.