20 January 2022
We are excited to announce a new partnership and project coffee grown by farming families in the Sandia Valleys of Puno, Peru. The project results from a collaboration between the Wildlife Conservation Society (WCS) and Central of Agricultural Cooperatives of the Sandia Valleys (CECOVASA).
Read on to learn more about this project and discover how purchasing coffee from CECOVASA will support the conservation of the biodiversity of the Sandia Valleys and the sustainable development of their people. 
The Sandia Valleys
The Sandia Valley is a sweeping region of rich cultural and biological diversity. It lies in the southeastern province of Puno in Peru, closely neighbouring the Bolivian border. 
High up in the Andean mountains of the Sandia Valley, Quechua and Aymara communities, indigenous peoples native to the South American Andean region, cultivate coffee. Below the coffee-growing areas of the valley lie the majestic Bahuaja Sonene National Park and the Tambopata National Reserve, protected natural areas revered worldwide for their ecological diversity and importance. Spectacular fog forests cover 78% of the Sandia Valley, home to spectacled bears, pumas, jaguars, red deer, monkeys, and native birds and plants.
The Sandia Valley is an area with essential environmental and cultural significance. But there are many threats to biodiversity and coffee cultivation in the region.
Challenges
Biodiversity and coffee in the Sandia Valley are intrinsically linked, as both engage with the local natural habitat. 
Of particular concern in the area is the increase in illegal gold mining, the construction of unplanned roads and the spread of unsustainable but more profitable agricultural practices. Furthermore, coffee productivity is low due to coffee leaf rust that thrived in the region. Inefficient technical advice, lack of capital to invest in soil management, post-harvest processing, and fragmentation between coffee-growing cooperatives in the area exacerbate challenges to coffee production in the region.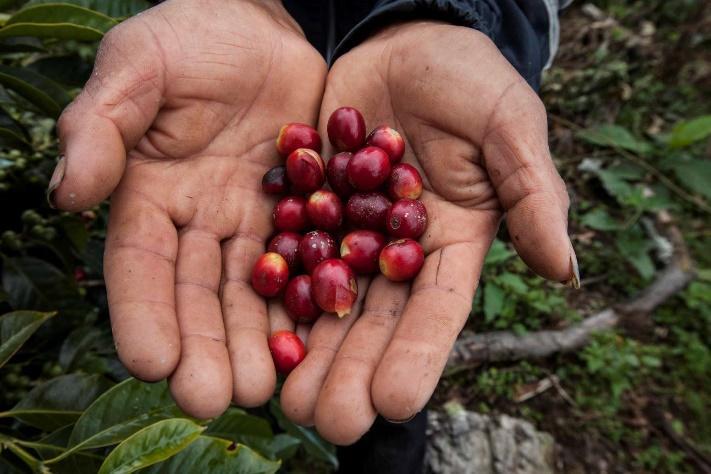 The Coffee Production and Forest Conservation Project
In response to the challenges threatening the biodiversity and people of the Sandia Valley, WCS has collaborated with CECOVASA to rescue and preserve coffee grown by Quechua and Aymara farming families. 
With financial support from the Gordon and Betty Moore Foundation and the Arcadia Foundation, the WCS and CECOVASA project will help coffee farmers increase the productivity and quality of their coffees whilst preserving the native ecosystem and local biodiversity. They will realise this by introducing good soil management and agroforestry systems (SAF) and post-harvest processing, positively impacting cup quality and yields, increasing producer income and quality of life. 
Using SAF methods to achieve better production, quality, and profitability, the project hopes to reduce the amount of forest turned into agricultural land. This work will help preserve the vital forests of the Bolivian Yungas and the natural reserves of the Sandia Valleys.
Coffee In Sandia Valley
Quechua and Aymara communities in the Sandia Valley already produce some fantastic coffee. The region offers excellent conditions for cultivating sustainable, high-quality coffee, and some smallholders already use agroforestry to grow coffee in native forest ecosystems. Much of the coffee in the region scores over 84 SCA points – with some even reaching 90 points! 
Therefore, it is thrilling to be collaborating on this project with CECOVASA and WCS. With some 5,000 families growing coffee in the Sandia Valley in association with CECOVASA, the potential for great coffee and positive impact is significant. 
DRWakefield's Role
As part of the project, we will contribute an additional $5 cents per lb on all project associated coffee we purchase from CECOVASA, in addition to any Fairtrade premium. This money will contribute to the project's ambitions of strengthening the region's environmental, economic, and social sustainability. 
This year we're delighted to have bought two containers of Fairtrade coffee from CECOVASA in association with this project. By purchasing this coffee we have raised $4,183, which directly contributes to the work WCS is doing in Sandia Valley. 
Impact
This year WCS will use the $4,183 funds to acquire supplies to improve the productivity and quality of coffee grown by families with whom CECOVASA has a conservation agreement.
In December 2021, WCS signed twenty forest conservation agreements with 20 coffee-producing families and, by February 2022, hope to sign a further thirty. These agreements enable WCS to help conserve over 182 hectares of forest and 60 hectares of coffee plantations. Estimated productivity of 17.5 qq/ha (800-1000 quintals of conservation coffee production to offer to specialty markets) will be achieved through effective management of coffee moving forward. 
Puno Coffee and Conservation Project coffee
The Puno Coffee and Conservation Project coffee has just landed in the UK, and samples are available for you to try! It will be arriving in our EU warehouses in February 2022. 
Find out more about this coffee or order a sample by getting in touch with a member of the trade team. 
About CECOVASA
Cecovasa consists of 4,564 small producers of Quechua language and Aymara. The cooperative sits in the southeastern part of the Peruvian Andes mountain range nearby Bahuaja-Sonene National Park. The average cooperative farm size is around 2 hectares, and most producers cultivate Caturra and Typica varietals. The extreme altitude of the farms produces coffees with delicate acidity and an abundance of fruity notes.
About the Wildlife Conservation Society (WCS) 
Wildlife Conservation Society (WCS) is a private non-profit global organisation founded in 1895. With a presence in almost 60 countries, WCS has long-term commitments in dozens of natural landscapes where it focuses on generating biological knowledge. WCS carries out conservation actions, educates and inspires society to value nature, and builds strong partnerships with local and international organisations to achieve tangible conservation results. In Peru, WCS has been working since 1968 to promote the integrated management of biodiversity, the sustainable use of natural resources and the conservation of species and natural landscapes.