06 July 2018
On 25th June we launched our first Full Circle event – to bring roasters and producers together to learn from each other and gain more knowledge and insights into coffee production. As well as being very valuable for farmers to learn new techniques from each other, it gave roasters a fascinating insight into the intricacies of farming and how they can contribute to the process.
This year we had five speakers who talked about Processing, Organic Coffee Production, Varietals, Water and Soil.
First was Andrés Salaverría, Commercial Director at JASAL El Salvador, he gave an overview of processing methods and how to control the quality at every stage. Including a breakdown of what each stage of processing entails and the potential downfalls.
Delmy Regalado, Assistant General Manager from COCAFELOL Cooperative Honduras then presented on organic coffee production. They produce their own organic compost which is made from sub products of coffee production and is supplied to their members for free, and the access is sold, making a waste product into a profit. An excellent example of a cooperative drastically changing its practices and succeeding in becoming more sustainable both as a business and for the long term future of the surrounding environment.
Third was Dr Aaron P. Davis, Head of Coffee Research at the Royal Botanic Gardens, Kew (UK). He defined what a varietal (cultivar) is, how they are produced, the development of the different generations of varietals, and the properties each holds, such as resistance to different diseases and taste.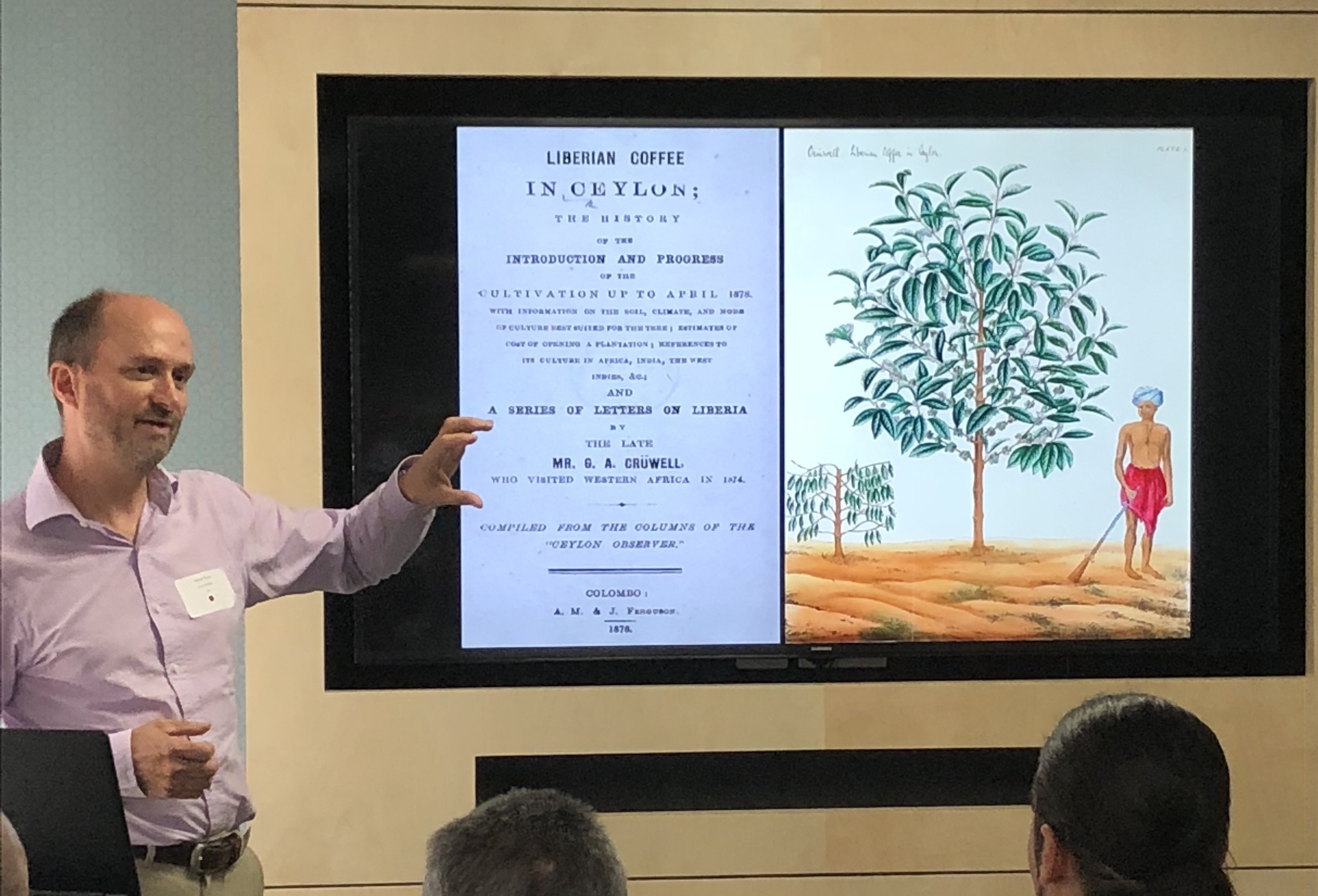 Next Raul Arevalo, General Manager of Cosecha Azul FOMIN from Catholic Relief Services El Salvador, presented on water. Wendell presented on the water crisis facing Central America, the reasons for the crisis such as drought and poor agricultural practices. He introduced the Blue Harvest program and the work they do to help secure water supply for communities and create resilient agriculture production.
Lastly Gabriel Agrelli Moreira, Manager of Market Development and Quality from Daterra Farm Brazil presented on soil. He introduced the chemical, physical and biological aspects of soil composition. He discussed how to study soil microbiology and how to improve soil biodiversity.
As part of the event all roasters donated towards a fund which would go to one of three cooperatives, each of whom had planned projects which needed help with funding. Once the proposals were received from the producers all staff at DRWakefield gathered to hear each presentation, they then took a vote on where they felt the money should be donated. Central Cooperativa Indígena del Cauca (CENCOIC) gained the most votes. They are a cooperative we have been working with since 2008 and are comprised of indigenous reserves in the Cauca region, they also export their own coffee.
CENCOIC will use the money to provide solar dryers – one for each family in each of the 17 indigenous reserves they work with, so that farmers have access to at least one dryer in their area. They conducted research which showed that 47% of members of their cooperative did not have access to drying equipment because of lack of finances.
DRWakefield decided to top up the fund so that we could provide the full amount they need. So CENCOIC can now start work on building a more sustainable future for their members.
We of course ended the event with a BBQ and drinks to relax and socialise.
Watch this space for videos of the event which will release over the coming months, and an update from CENCOIC on how their project is progressing.