30 January 2023
Coffee information has undergone many changes over the last few decades. As the industry blossomed, by the early 2000's, information on farms and producer's names, altitude, varietal, and process became commonplace for coffee purchases.
Since then, the amount of information requested of a producer to meet the demands of the industry has grown. Today, we expect not only technical information on coffee, but well-crafted stories, high-resolution imagery, insights into growing practices, and even financial data related to the people who grow it.
The key thing to consider here is that this information is requested. Selling a coffee doesn't automatically enlist a producer to provide this information. And this is something we need to remind ourselves of as our industry progresses.
Most often, the producers we work with are more than happy to share information and imagery. But, an absence of information and imagery should not hinder the sale of a great coffee. And it does not mean there is a problem with it.
Of course, the conditions behind the coffee, be it human, agronomical, environmental, egalitarian or plain celebratory are of huge interest to most of us. An industry often borne from passion very much dictates that. DRW have long championed the transparency of producer. As we choose to work with businesses that are based in and from the country of origin rather than setting up satellite offices and labs, understanding those stories is integral to who we are.
We spend a good amount of time each year visiting our suppliers, be they farmers, cooperatives, exporters, or shippers. We need to understand their needs, and they ours, in order to work best for each other.
Because of this, we have long held the belief in regional blends, cooperative lots, and washing station lots. Often these are no different to what on a larger farm could be sold as a single estate. Bought and sold in the right way it can be incredibly powerful. One thing that is now changing is how the information gets shared and what the stories told are.
Up until now, we have worked hard to share the information around the cooperative or the region that led us to that coffee or tells its origin story. This we will continue to do. However, in applicable coffees now, you will start to find a little more.
When we visit origin, we very often visit with the small holder farmers that contribute to the coffee and are part of the cooperative. We see their farm, and listen to their understanding and knowledge. These stories are harder to tell as are not applicable to all farmers contributing to a coffee, or even to the cooperative or region. But they have always been there and they are important.
Often this is comes out in the conversations with the trader. It's one of the key roles we perform on the trade team. And the value of phoning us up to have a chat.
It's one of the best reasons too that roasters should visit origins.  It tells us why we want to stick with a supplier or persevere with a blend to find a route to market. It also allows us to understand where things might go in the future, or given issues around climate change if there even is a future. It gives us the ability to celebrate success.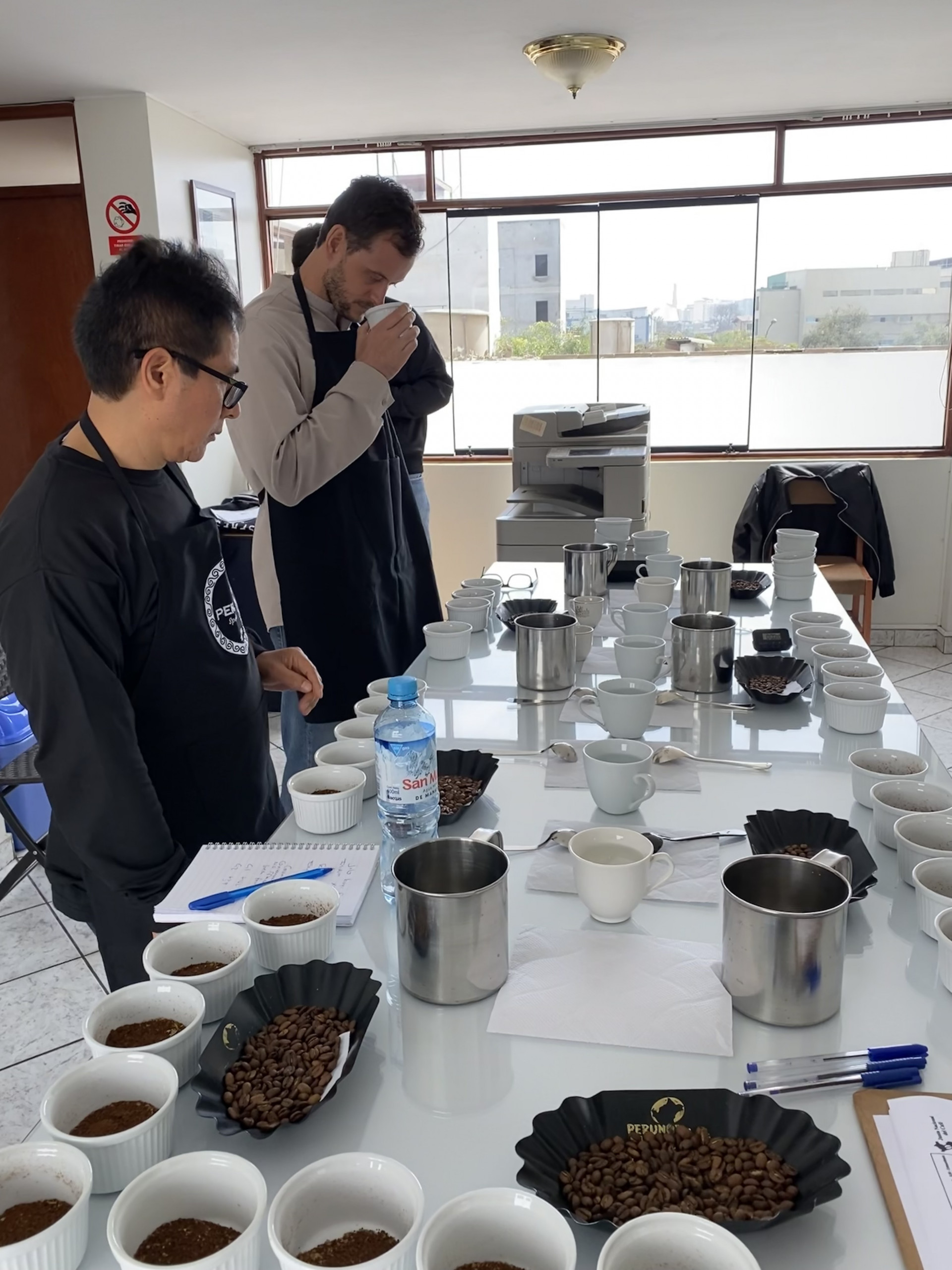 If you haven't already, you will be noticing a difference to the information sheets around these coffees. Now, not only will your coffee come with the information you need, but one or two farmers that contribute to that coffee will have their stories told too.
The myth that single farm lots and single varietals are the only traceable coffees is exactly that. By sharing this information more fully with you, we hope to shine a light that a regional lot can be just as traceable and just as valuable. Of course, some farmers will not want to share their information and that is their choice and right, but many are happy to see some recognition for the work that they do.
With well over 300 different coffees available this is no small task, but one we are well underway with.
The website now will hold the specific info on the coffee, be that varietal, process, microlot or other. There will be a downloadable info sheet on the farm that produces it. This will contextualize the coffee more fully; containing info on all the varieties grown and processing offered on the farm, certifications available and details about what makes that farm special. These may not be applicable to your coffee, but help illustrate where a varietal selection has been made, for example.
A small reminder though, the farm may be certified but that does not mean all the coffee bought from the farm is! We buy a large amount of certified coffee, If you are not certified yourself, but choose to buy certified coffee because it's great, your coffee is decertified by us and you cannot market it as such. I have yet to find a farm that offers certified coffee that does not extend that care and attention to the entire farm, and many certified coffees are speciality grade and well worth looking at!
If the coffee is a blend, then there will be a page talking about that blend. We will then try to include as much as possible stories of the producers that contribute to that blend. We cannot cover everybody in that, but by including examples of some producers, and sharing their stories, we hope to be able to bring you greater insight of that coffee, and the reasons that we buy it. You can see how it works for a blend through the example below.
El Eden
PDF3.57 Mb
El Eden is a blend from 16 entrepreneurial farmers in the Armenia, Quindío region of Colombia.
We also hope it will encourage you to come out and see for yourself! The best way to get marketing and build those direct relations is to come out for yourself.