09 September 2021
Tsegab Ayele Tulu is the owner and manager of Heleph Coffee in Bona Zuria, Ethiopia. He is the son of Ayele Tulu, the owner of the washing station of the same name. Tsegab and his father process and export some of the best coffee in the region, continuing a family tradition that has existed for almost 30 years.
Heleph Coffee is grounded in quality, community, transparency and sustainability. It is our first year working with Tsegab and his team, whose coffees will shortly arrive in our Dublin warehouse. We were excited to catch up with him to learn more about the family company's history, his passion for coffee and social change, and what daily life looks like in Bona Zuria.
We hope you enjoy this Coffee & a Chat with Tsegab. To try his coffee for yourself, get in touch with a member of the trade team!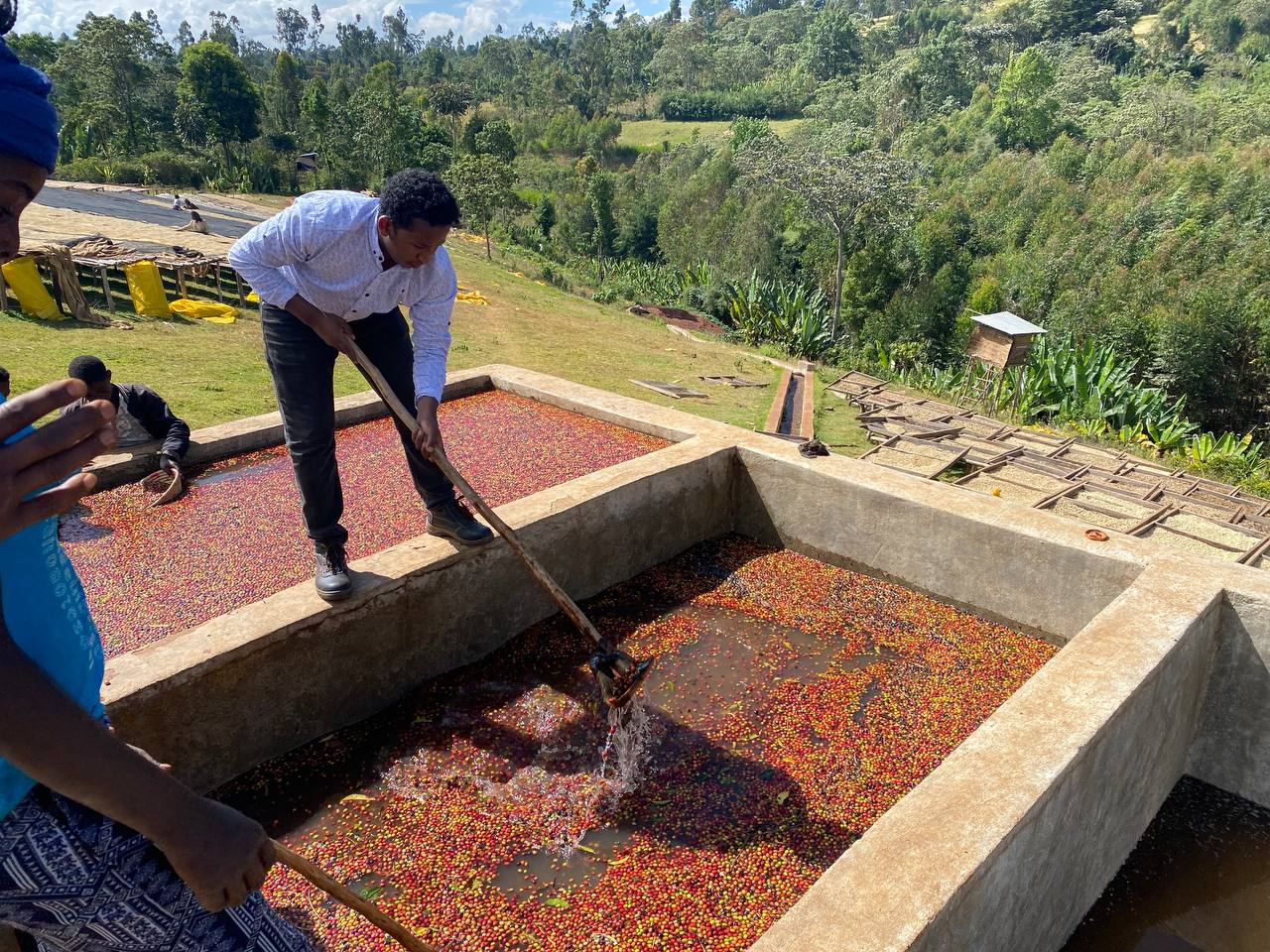 Tell us about your journey in coffee and what led you to set up Heleph Coffee.  
My name is Tsegab Ayele Tulu. I was born and grew up in Hawassa, the capital city of Sidama Region. Now I am living in Addis Ababa due to my work in coffee. I started to engage with coffee in 2011. My father's family tradition is in agricultural production and trade. Since 1976 my grandfather, Tulu, owned a coffee plantation at Harbegona, now Bona Zuria Village in the Sidama Region Province. In 1986 my father, Ayele, inherited some of the family's coffee farms and processing washing stations. Since then, he's used these to supply coffee to local markets. However, as a producer and supplier, my father's coffee business became difficult to sustain a good living for him and his family, as he only receives a minimum wage by NYC coffee price for his coffee, which is offered by local auction and other exporters.
Faced with this situation, my father and family lost interest in coffee. Not only because it wasn't profitable and didn't bring significant changes in his life, but also because he didn't know where his coffee was sold and who his end-users were. During this time, I was studying and graduated construction engineering at Hawassa University. In 2016, the Ethiopian government relaxed the export regulations and started allowing coffee producers and processors to deal with foreign importers directly. This enabled them to export their coffee without going to auctions at the ECX, which was a big opportunity for us – I had a vision and planned to establish a private coffee export company. Therefore, in 2018 Heleph Coffee was established.
Tell us a little about Heleph Coffee
The name 'Heleph' means to change over or passing over in Hebrew. Since our establishment, we aim to be Ethiopia's number one transparent, community-based, traceable and innovative coffee producer. Our principle "direct trade coffee " deals with farmers as if they were our own family. We closely communicate and interact with them. We believe that it is very important for a proper coffee exporter to fully understand all phases of coffee processing and the challenges and hardships our farmers face.
Today, the new generation in coffee is requesting more information about anything and everything in their coffee products. Therefore, detailed traceability in coffee is our company's first concern so that our worldwide coffee consumers and coffee importers can access genuine Ethiopian coffee products with more information about the genetic diversity of their coffees. This system helps our farmers meet and interact with consumers and roasters directly. In addition, direct trade coffee allows us to exchange better prices for our products, as we strive to provide quality products for our buyers.
The search for better traceability and quality has led to a change in this mentality, giving us a reason to focus on the quality of what we produce, as now there is value in doing so. Traceability begins by recognising farmers, allowing them to see that it is worth going the extra mile and that they will be compensated for it.
We buy coffee from 10,000 farmers in each washing site – all of whom are registered and have our company identity document cards in our coffee producer lists. This system helps our farmers meet and interact with consumers and roasters directly.
At Heleph Coffee we produce green coffee beans using the following methods:
• Natural Sundried
• Fully Washed
• Honey Process (White, Red, Black)
• Anaerobic Process (48 Hour, 72 Hour)
• Single Farm Micro Lots
Women are empowered to become farmers within the communities we work with and are encouraged to take on leadership roles. Heleph Coffee offers female employees higher wages, and provides female employees of all ages with comprehensive free healthcare services. In addition, we are also currently working on a school project in Bona Zuria, donating exercise books and pens to students.
Heleph Coffee has a three-point model to produce the highest quality coffee while maintaining sustainable conditions for farmers and the environment.
Product Quality – Through sustainable practices, we can produce the best quality coffee. Our farmers and employees' well-being is essential to the continuation of product quality, while product quality means customer satisfaction.
Social Responsibility – Fair wages for all farmers and employees, creating a healthy and safe working environment, and helping the community to improve their living standards and education.
Environmentally Friendly – We use water from natural rivers running through the land for the washing process and environmentally friendly waste management.
Tell us about your father, Ayele Tulu, and his Washing Station.
Although Heleph Coffee is a newly established company, we have been in the coffee business for more than three decades, sourcing fresh coffee, processing coffee, and supplying coffee to the unions and local market (Ethiopian coffee exchange). From the beginning, we've always strived to deliver the best quality coffee to the market.
My father owns the Ayele Tulu Washing Station, which is home to our Bona Zuria coffee. The Washing Station sits at 2,190 meters above sea level, one of the highest among all existing washing stations in the country. Here, we receive coffee grown by 600 farmers in the local area at heights ranging from 2000 to 2340 masl. The coffee we receive is 17158, 74158, 74165, 74110, 7470 and heirloom varieties harvested between October and December.
During the harvest, coffee cherries are brought to the washing station by our contracted growers. When we process Washed (Wet Processed) coffee, we pulp the cherries using an Agared Disc Pulper and use fresh water from the nearby Daddaye River. Then we ferment the pulped cherries for approximately 12-18 hours, which are placed on raised African beds with shades designed to ensure proper air circulation and temperature control for an optimal drying process – the shades help the coffee dry slowly. Finally, the drying beans are regularly raked and sorted to preserve the high natural quality.
Once processed at the station, coffee beans are stored in a local warehouse after reducing the moisture content to between 11.5% and 12.0%. Then, we transport the beans to Addis Ababa where they are milled and processed for export.
Having a father and son coffee relationship throughout the production process enables us to oversee all quality coffee preparation protocols from harvest to export. Therefore Heleph Coffee strictly adheres to the highest quality standards to prepare and export up to 7 containers of processed green coffee each year from Ayele Tulu Washing Station. In addition, as part of its Grade 1 producing program, Heleph Coffee use unique preparation protocols at the harvest and processing level to bring beyond the standard expectation for professional coffee output.
This includes:
• Careful selection of only the ripest cherries
• Ensuring producers and labourers are paid the minimum market price plus premiums
• Additional hand sorting and the use of floatation tanks
• Special lot separation and isolation
• Focus on community-based initiatives and development of social media platforms for market access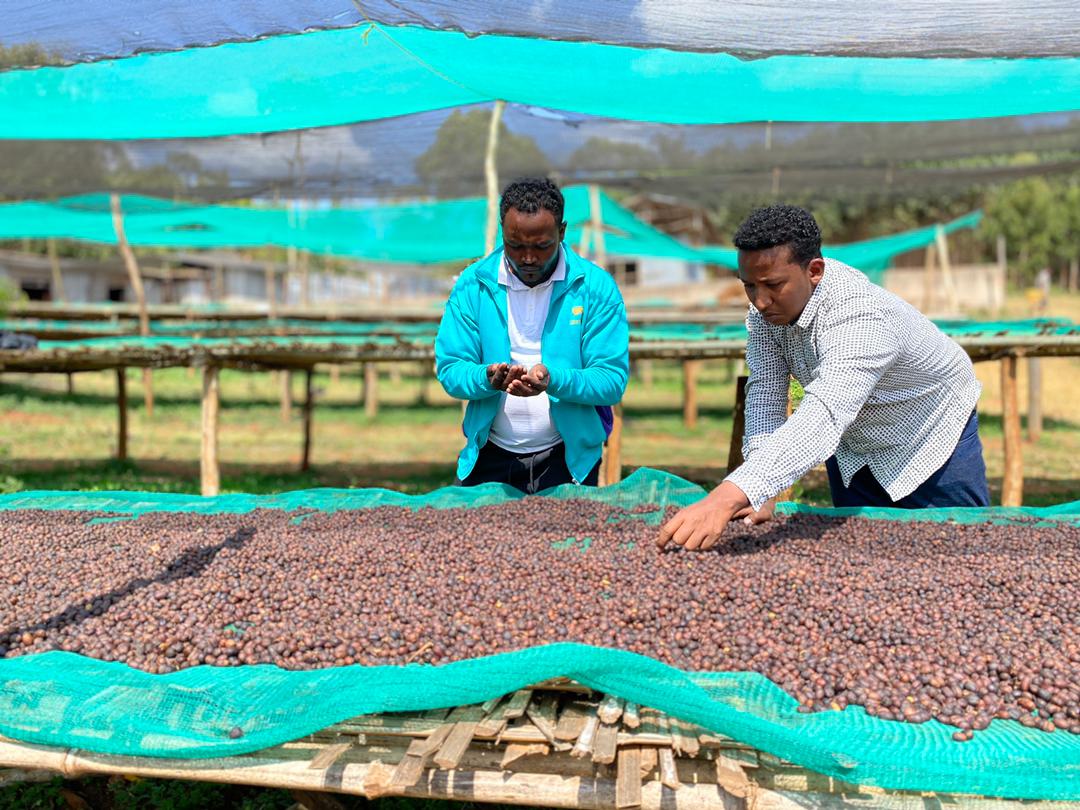 Tell us a little about the Bona Zuria region.
Sidama is considered one of Ethiopia's new ten regions following the referendum held on the 20th of November 2019. After the referendum, the National Electoral Board of Ethiopia officially announced on the 23rd that 98% of people voted for independence from SNNPR (Southern Nations, Nationalities, and Peoples' Region).
From the viewpoint of coffee, there is confusion about the name of the area, as coffee from this area is often called Sidamo. Sidamo refers to the people living in Sidama in the local language; therefore, coffee from this area should be named Sidama according to the region's people.
Bona (Bona Zuria) is one of 30 woredas in Sidama. (Woreda is an Amharic word, and it is similar to District.) The altitude of Bona is around 2,200 masl, one of the highest altitudes among the country's coffee-growing areas. The coffee available in this area is categorised as Highland Coffee, and has been exported under the name of Sidamo, together with coffee from other woredas in the region. However, it has been recently pointed out that coffee from Sidama Bona is superior to quality coffee from other districts. Therefore, we believe that it should be labelled Sidama Bona when marketed.
Bona Zuria sits on a hill, right in the middle of the coffee growing regions. You enter through tin gates which open onto lush green grass and, if you're lucky, smiling day labourers lined up clapping and whistling their excitement at your visit. Bona Coffee growing communities include Demeka Becha, Dilla Suke, Demeka, Goacho, Becha, and Bashiro Dale. A few nearby places in the region, such as Harbegonna, Bensa and Aroressa, are also good for coffee production.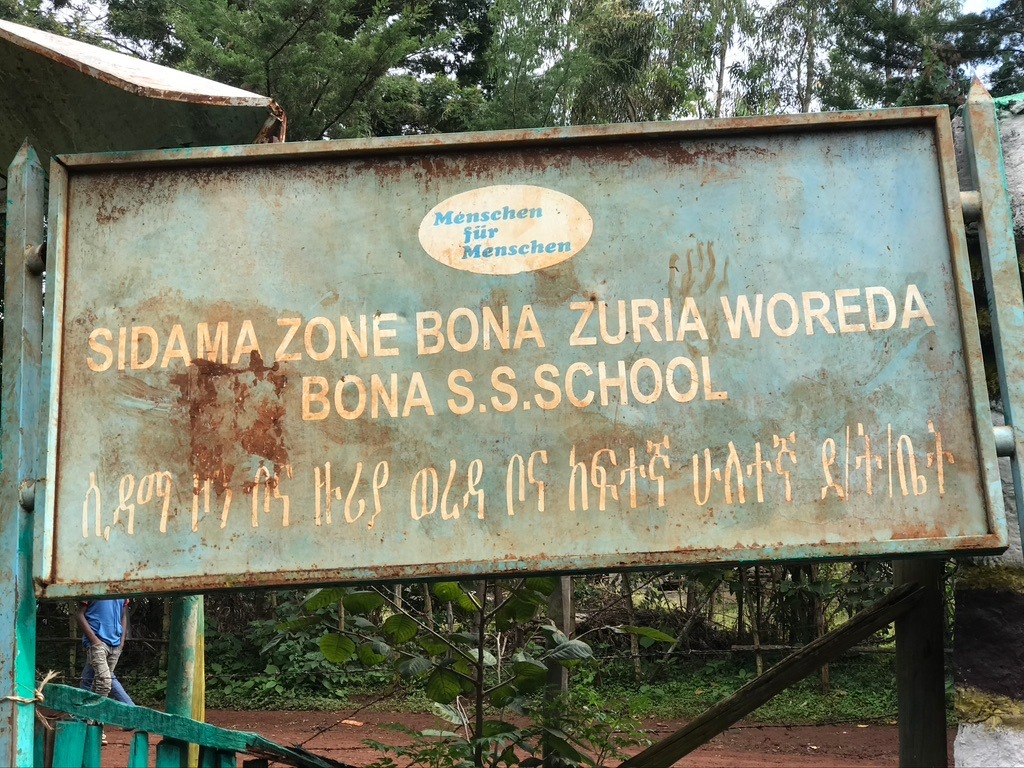 What makes Ethiopian coffee so special?
Among coffee-producing countries, Ethiopia holds near-legendary status not only because it's the "birthplace" of Arabica coffee, but also because it is simply unlike every other place in the coffee world. Unlike the vast majority of coffee-growing countries, the plant was not introduced as a cash crop through colonization. Instead, growing, processing, and drinking coffee is part of the everyday way of life, and has been for centuries – since the trees were discovered growing wild in forests and eventually cultivated for household use and commercial sale.
From an outsider's perspective, this adds to the great complexity that makes Ethiopian coffee so hard to fully comprehend culturally, politically, and economically, as well as simply culinary. Add to that the fact that the genetic diversity of the coffee here is unmatched globally – there is 99% more genetic material in Ethiopia's coffee alone than in the entire rest of the world – and the result is a coffee lover's dream. There are no coffees that are spoken of with the reverence or romance that Ethiopian coffees are.
One of the other unique aspects of Ethiopia's coffee production is that domestic consumption is very high because the beverage has such a significant role in the daily lives of Ethiopians: about half of the country's annual production is consumed at home.
What are important considerations in producing and processing high-quality coffee and what are the challenges for coffee producers in Ethiopia today?
From the beginning of the coffee picking process, it is important for producers to understand why they are putting in all the attention to detail and work they've never done in the past. This is why we've developed training and have designed and shared pictographs showing the results of errors in the coffee production process. We also give a bonus price to producers if they bring all red cherry while harvesting, which leads them to understand how much quality coffee is beneficial in sustainable coffee production.
The more information we can obtain on matters related to the quality of the green coffee and the ethics of the supply chain, the better. This makes it easier for us to ensure the functioning of the production and delivery chain, and it helps solve any problems that may occur in it. It also helps our consumers to understand where their coffee comes from, whom it was made by and how much was paid. It mitigates many of the problems that distinction can cause, as this information is easily lost in the supply chain, particularly over great distances.
At Heleph Coffee we use our unique preparation protocols at the harvest and processing level, to bring beyond the standard expectation for professional coffee output.
For a coffee producer, challenges include access to finance, as the lack of loan capital affect production. We are in need of big farming – because of the population pressure most coffee farming are run by individual farmers and almost half of the farmers say they have a hard time finding reliable improved plants. There is limited access to inputs such as fertilizer, seeds, improved cultivars, strategic pruning, and the rejuvenation of ageing trees.
What is the food like in Bona Zuria? What do you like to do when in the area?
Today, in Hawassa I stay much of the time at Lake Hawassa. My favourite thing to do here is eating raw fish with friends and enjoying a traditional Sidama meal like Kocho, a steamed "False Banana". The local food in Bona Zuria includes buurisame, a meal prepared from false banana, milk and butter, which we share with neighbours and visitors. Besides the washing stations, in the early morning, I will go to the marketplace and enjoy a good time with family members like eating meat and bursame with them. Then I will my afternoon at Logita Waterfall its big fountain and it's amazing to spend the day there.
When I visit the Washing Stations and stay in Bona Zuria, I will go to the marketplace and enjoy a good time with family members in the early morning. Here we eat meat and bursame, and spend the afternoon at Logita Waterfall, an amazing place to spend the day!
What is the importance of the coffee culture in the area?
Nearly 90% of the Sidama live a life centred on agriculture. An important staple food is the wesse plant, or false banana. Other crops are also grown and cattle are often raised, with a strong cultural tradition surrounding their ownership. Perhaps the most important source of income is coffee.
Coffee drinking with friends and neighbours creates a moment of gathering, and also has the understated purposes: It is used as a communication forum to share local news, gossip, social affairs, neighbourhood concerns, solidarity, counselling and meditations over the coffee steaming.
Drinking coffee with neighbours is traditional hospitality for Ethiopian societies. Therefore, when one family makes coffee, neighbors or friends are expected to come to drink coffee as a considered mark of friendship or mutual respect. This is an important example of Ethiopian cultural hospitality that's been passed from generation to generation.
When you're not drinking coffee, what are you drinking?
When I'm not drinking coffee I will actually drink Stej, which is a traditional drink of honey wine.
Is there anything you like to do in your spare time?
In my spare time, I like to do graphic design and video editing.
Are you listening to any music at the moment that you'd like to share?
Ejigayehu Shibabaw – Gigi: Abay From the Album Illuminated Audio