11 April 2022
In 2019, we had a Coffee & a Chat with Tony Higgins of H. R. Higgins in London. Three years later, the company is celebrating its 80th anniversary, marking eight decades of coffee and tea in the country's capital.
We caught up with David Higgins, the third generation of H. R. Higgins. David is now running the business his grandfather, Harold Higgins, established in 1942. He shares his journey in coffee, the evolution of H.R. Higgins, and what the future has in store.
Hi David,
Could you tell us about yourself and your role at H.R. Higgins?
I grew up in Harpenden, Hertfordshire and having lived in London for most of my life have now moved to Germany (my wife is German). My role has therefore changed over the years, especially recently. I took over managing the company from my father in 2004. Then in 2013 I met Nick Hartley, who became my business partner. This partnership has meant I can concentrate on the selection, sourcing, and roasting of the coffee including the freedom to travel to origin, while he runs the business side.
Have you always worked for H.R. Higgins, or did your coffee journey begin before you joined?
I first started working in the company part-time during school holidays and joined full-time in 1982 having left school with 3 A levels. I had never really considered doing anything else. In those days we had a shop in South Molton Street with a Whitmee 28lb roaster in the basement. It was such a magical place full of interesting characters and frequented by a diverse clientele.
You first started working for H.R. Higgins in 1982. What has changed in the company between then and now?
It was also very old fashioned, not much had changed since my Grandfather's time, the staff were all addressed as Mr Smith or Miss Smith etc. We were also one of a handful of roasters in London. Today we are part of a huge family of roasters in the UK. The choice of coffees we could source was much smaller, the speciality market was only just beginning and many origins sold by grades only. Now thanks to people like DRW we have contact with farmers and coops producing an unimaginable variety of coffee.
Are there any coffees that have continued in the H.R. Higgins range throughout this time?
One coffee which we still sell is Tanzania Kibo Chagga, which my Grandfather first saw in the 1950s and travelled to Kilimanjaro in 1960 to secure a direct trade with the KNCU. He was probably the first British roaster to buy direct from the farm there. In his day he had to buy from wholesalers who only wanted to sell from a restricted list, so different from today.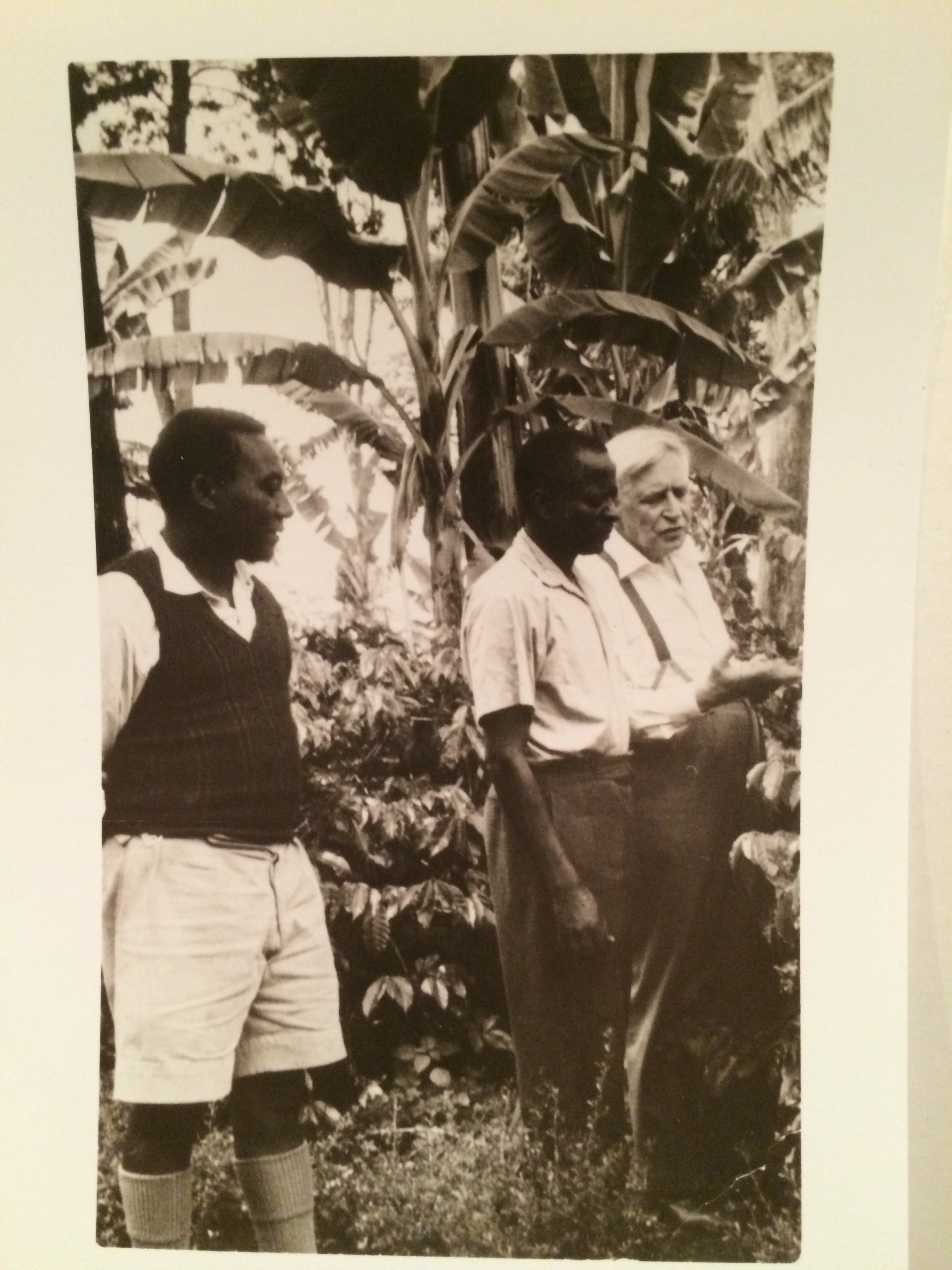 Do you have any favourite memories or stories from the 80 years of H.R. Higgins?
I remember very vividly the first time I roasted coffee on my own, without supervision. My Dad had been teaching me to roast on our old Whitmee for several weeks and had left me on my own for light roasts, but told me to call him for the dark ones. The Whitmee had the gas flame inside the drum, was entirely mechanical with belts whizzing round driving the drum and the fan. All the beans fell through the flame and because the drum was open at the front you felt very connected to process. Of course, when the time came to call him he was stuck on the phone so I had to finish the roast on my own. I remember my heart pounding as I knew full well that it was easy to set the beans alight if you didn't watch out. Anyway, it was fine and my dad let me 'fly solo' after that…
What do you think the future of coffee has in store?
The future of coffee is extremely important. We know that climate change is a massive influence on what happens in the next few decades. The sustainability of coffee is crucial too. It is hard to predict where we will be in 20 or 30 years, I suspect some regions will no longer be able to produce coffee whereas others will open up. It is up to us as roasters and consumers to support good farmers and coops to even enable them to survive, especially as more and more people around the world drink coffee.
What is your favourite coffee origin, and why?
I don't know if I have a favourite origin. I recently visited Costa Rica, which is a fabulous country, and having been unable to travel for a long time, lifted my spirits. I went to see CoopeDota, and it was wonderful to see the coffee trees at harvest time and the cheerful atmosphere at the mill as the fresh cherries were arriving gave me a lot of hope for the future of coffee. It was such a contrast to my first visit to origin when I was 18, to Tanzania. That was a culture shock, the first time I saw terrible poverty and how some people in the industry treated their workers.
Is there anything new and exciting happening in the company today you'd like to share?
This year we are 80, and will be celebrating later this year with a new coffee. When we were thinking about what coffee would be right for the occasion rather than thinking back 80 years, I decided it should represent where we are heading hopefully in the next 80. So it will be sustainably sourced, fully traceable, have a positive social impact, and of course delicious, but all will be revealed soon….
How do you enjoy drinking your coffee?
I am certainly looking forward to a cup of coffee right know and as ever it will be a pour over, and without milk or sugar or anything else which smothers the flavour. I would never tell anyone else how to drink their coffee but for me I just want to taste the coffee and nothing else.