01 November 2019

How long have you been in business and how did the idea start?
Monsoon Estates started as a hobby, we joke that it either went right or wrong as we never planned to have a business roasting coffee! Having lived overseas for years, when we returned to the UK we really couldn't get coffee that we liked. It started a search that lead us to roasting our own on a little home roaster.
That was about 10 years ago. A few charity events later, using our coffee, and lots of encouragement from family and friends we took the plunge and bought our first baby shop roaster. We really were a home-based, kitchen table type thing for the first 3 years. Well and truly hooked, we decided to lease our first commercial premises. That meant more machinery and so the journey began!
How did you come up with the Monsoon Estates name?
Naming a new business is often difficult and we took ages with Monsoon Estates. We wanted something that would conjure up an exotic escape when drinking your coffee. We always loved the word monsoon, Monsoon Malabar one of our favourite coffees back then. With coffee grown on farms and estates in the Monsoon Belt there was our name!
You won some awards this year?
Yes we were awarded gold stars for nine of our coffees this year! Including the top three-star award for our Ethiopian Guji -which is one of only six coffees in the UK to be awarded three stars this year.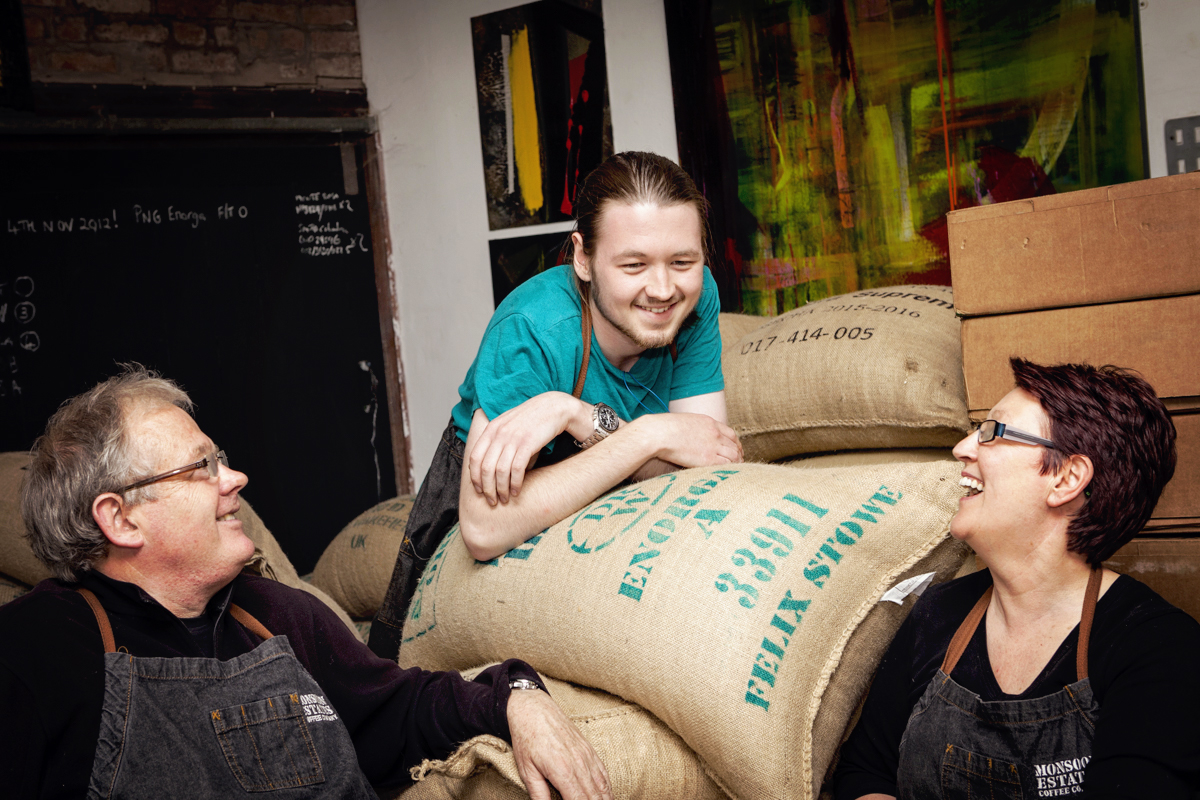 What's your favourite thing about living in your town?

We are really lucky to live in Stratford upon Avon. For a small town, it really punches above it's weight. We have lots of things that cities normally have. Theatres, The RSC of course and several other smaller ones. Cinemas, loads of restaurants, a leisure centre, tennis and cricket clubs and the list goes on….
Our new roastery (yes we've moved again) is based in Alscot Park. A beautiful private Estate just outside town. Stunningly beautiful and a joy to come to work. We're right on the edge of The Cotswolds so days off can be spent there (when we get days off)!
Which is your favourite coffee/origin and why?

I'm an Ethiopian coffee lover (Anne) and Chris is Papua New Guinea. I must say I love a PNG with milk as flat white type drink. Big, bold and comforting.
What's your favourite brewing method?

My beautiful Ethiopian's are great any brew method for me, but truly gorgeous in a cafetiere. We use Espros here. Great clean cafetieres that still let all the lovely flavours through. I find pour-over type methods can hold back too much of the flavour and we lose something. We do like big flavours and want to taste everything in a great Ethiopian natural! We like coffee to taste like coffee and not tea.
What's life outside roasting like for you?
Life outside roasting doesn't really exist at the moment. We are living the dream. A small growing business, you know what it's like!
What would you be doing if you weren't roasting? Maybe you already have a side project?
If we weren't roasting coffee I suspect we would have a coffee shop somewhere. We have a room here earmarked for a coffee shop but always a time thing for us. It will happen!
Where was the last place you travelled to?
The last place we travelled to together was Prague. We have some lovely Czech friends who treated us to the most amazing few days. We had visited years ago but its always better when you have a local along. The food and beer were amazing and the coffee too when you know where to go!
What was the last book you read?
My latest book was The Book of Hygge by Louisa Thomson Brits and Chris' was The Black Swan by Nassim Nicholas Taleb. You can see we're both quite different, he's a bit high brow for me – I just dream of having a day off curled up in front of the fire with a good book!