15 November 2019
The coffee industry is full of jargon we all love. This is great but sometimes can be misleading if you have not come across it before! So, we thought we would create a handy list for you to refer to when you spy a word that you may not recognise. Check out our 'Market Report Guide' here to learn more.
Over in Japan at the Rugby World Cup, England beat New Zealand's All Blacks in the semi-final but unfortunately, they couldn't go all the way, and lost to South Africa in the final.
Post-Brexit trade negotiations continue to roll on. Trade agreements are being negotiated and some agreements have been found. However, the country is far from ready. Companies are urged to get prepared with the exit rolled again to 31st January 2020 (with a suggested transitional period of one year).
On the 10th and 11th of October, the bigger industrial coffee buyers/traders and suppliers gathered around 50 tables during the yearly coffee dinner in Switzerland. Topics discussed were new growth markets like China, climate change and the necessity of origin diversity in coffee sourcing.
This month we focus on: Vietnam, India and Costa Rica!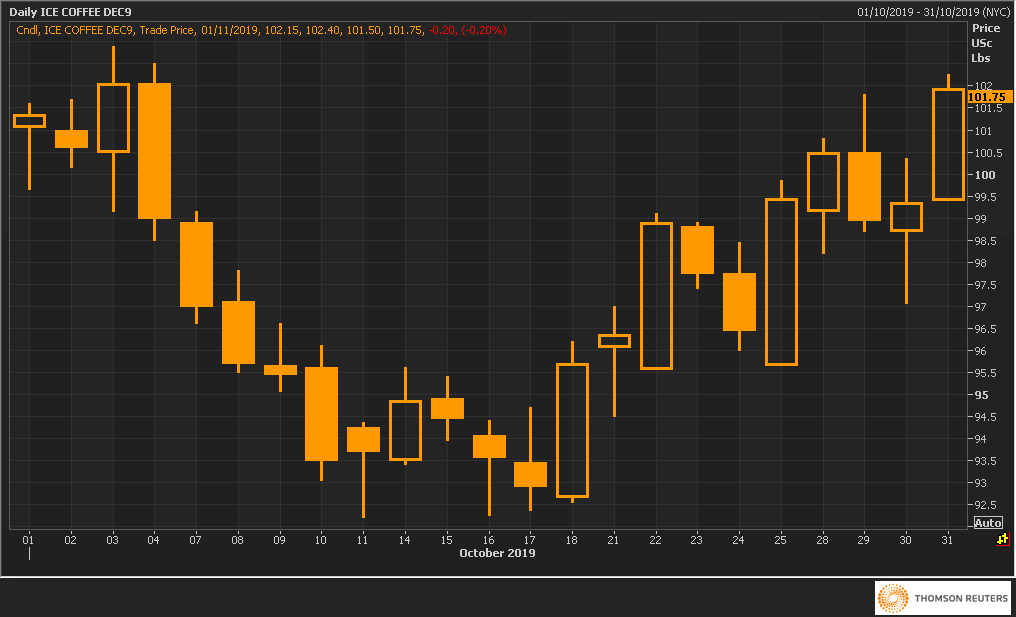 NYC Market
In October the Arabica futures market (Dec terminal) started just above the 1 c/lb level. A very weak Brazilian real (4.18 on 15th October) caused a slide down to a low of 93 c/lb on October 17th. Then some macro influences took over: the FED cut interest rates and Brazil geared up for some major economic policy changes, moving the market up again to a month end of 101.75 c/lb.
On October 1st the net short position for the non-commercials (managed money) was 40.535 lots short. During the month they increased that short up to minus 55.374 lots. The funds, it appears, continue their drive of putting money in coffee, and have a clear view to the downside.
As you can see from the International Coffee Organisation (ICO) data below, the global physical coffee market has reached its peak and will move into a period of deficit in 2019/20. Once existing stocks at the key terminals are drawn down by roasters, the reduced supply is likely to have a positive effect on futures (which are under-valued).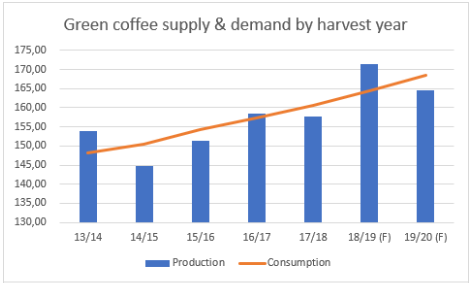 Physical business was slow in October and an increase flow of beans is expected out of harvests from mild coffee producers like Honduras, Nicaragua, El Salvador, and Peru in the coming months. Despite today's low market price of just over 1 USD, these countries have few alternatives to generate cash and so shall induce sales to the terminal (and increase liquidity for the commercials).
Robusta
The London coffee exchange for November terminal opened on 1st October at $1330/mt. It followed the direction of Arabica, dipping to a low of $1227/mt on the 17th October and then began its upward trend to end the month of October with $1332/mt. This figure was over $300/mt more this time last year, at $1761/mt.
Currency
With the announcement on the 18th October that the EU and UK were putting together a deal (or struggling to, depending on who you ask), the pound soared to a high of 1.299 USD. Pound Sterling finished the month stronger against both the Euro and the US Dollar.
On 30th October the FED cut interest rates for the 3rd time since July. To some this wasn't really needed if you look at solid US performer indicators like GDP growth of 1.9%, and a 50-year unemployment rate of 3.5%. Even stock market averages are close to new highs. What impact this will have on the greenback remains to be seen.
As you can see from last month's report , another major driver for the world coffee price is the Brazilian real. It is expected to strengthen back to 3.90 per one US Dollar over the next 12 months, as investors are cautiously optimistic about further progress.
Big origins: Brazil and Colombia
Despite a shortfall of rain in Brazil, it was enough to wake-up the trees and provoke widespread flowering in Minas Gerais. So far the soil has had sufficient moisture to support further growth and the development of cherry.
In Colombia, new rules preventing coffee imports of un-washed and Robusta coffees is likely to cause a shortage for washed Arabica globally. Especially because in Colombia production is forecasted to be unchanged and in Central America it is decreasing.
Focus on
Vietnam
The current season for this Robusta giant is coming to an end with not much selling activity to date, mainly due to record high differentials. The peak of the new crop will be from the end of November to the beginning of January. The national holiday season starts on the 20th Jan and this is important to note, because private exporters will be wanting to cash in before those festivities.
Some farms show over 50% ripe cherries, while others are still green and yellow. With coffee prices the lowest in 10 years and production costs like labour and fertiliser increasing; this could be a tough season for Vietnamese farmers. Some have already been seen picking early ripes and drying them on their small patios to blend with old crop to come up with 'some kind of quality'. Another worry is that farmers might want to cut down their labour costs by picking the whole plantation in one round. This could lead to quality issues, since a lot of it is far from ripe.
Weather has been favourable for the 2019/20 crop (estimated to be 5-7% higher than 2018/19 crop) and the typhoons that are forecast for November are not expected to have any sizeable effect on crop size or quality.
Carry over stock is roughly 10% of the 2018/19 crop, which farmers will only release at a good price or after new beans come in. Many exporters/traders are short with a lot of empty space in their warehouses. They are negotiating hard with overseas buyers who still need coverage for Nov/Dec shipments.
Many industry folk are reported to experience a loss this year and there is a rather pessimistic view from the whole coffee chain for the new crop. Farmers insist on VND34,000 (exchange rate: 1 USD ~ 23,150 VND) for the standard grade, and all local dealers/exporters must accept that on an outright basis and offer to the overseas buyers at historically high differentials (+200 for Grade 2, 5%BB). This could majorly decrease Vietnam's crop export of 2019/20, while there's fierce competition from other origins who keep exporting strongly. A low export pace is expected for the coming months, before new crop really comes into play.
Total stocks around Ho Chi Minh City (HCMC) have reduced from 157k to 128k metric tonne in both bonded and non-bonded warehouses while in upcountry warehouses stocks are down from 68.9k metric tonne to 47k metric tonne last month. Total carry over is estimated at 350k metric tonne from last crop.
India
India grows approximately 1.5 million bags of Arabica and 3.7 million bags of Robusta a year and more than 70% of this is from small holders. Indian coffees are rather unique; a lot of coffee is shade grown, and the farms are rich in biodiversity. The usual Arabica crop cycle starts in October, however this year it is slightly delayed until the end of November due to prolonged rains. The Robusta crop is still on track.
Domestic consumption is at 1.5 million bags a year and growing, although the per capita consumption is still low. Weather has been typical, which has allowed the 'monsooning' process (exposure to high moisture rains in ventilated warehouses next to the sea) to take place as planned from June to mid-August.
Local prices for the 2018/19 crop have slowly started to cool off from the highlands. The Indian Coffee Board estimates the 2018/19 Robusta production to be 224,500 metric tonne and Arabica 95,000 metric tonne. Total shipments for the year remained on par with the same period in 2018. However, in comparison; Arabica shipments were 12% lower and (washed) Robusta shipments were 34% higher than the previous season.
The ongoing wet weather situation (flooding) may have had some impact on the overall production potential, especially on Arabica. However, the extent of damage on the new crop numbers are still minimal. Pre-monsoon estimates show a marginal increase in Robusta and a reduction in Arabica. Output for the new crop is expected to be back to normal. In India there's an export incentive scheme in place. Who knows, maybe that will drive up export for the upcoming crop?
Costa Rica
In Costa Rica, systems and sustainability work differently than in the rest of the world. It has the most successful rainforest conservation plan when compared to other tropical rainforest countries and a major portion (approx. 30%) is now protected by private reserves or owned by the government.
2018/19 was the lowest coffee harvest ever reported with 1.718.246 fanegas (one fanega being 46kg), of which 80% was reported as exportable grade. First forecasts for 2019/20 are 1.911.134 fanegas (according to Icafe), where Tarrazu will account for 94.627 fanegas.
In the central region, and west Valley there has been an explosion of micro mills (tripled over the past 10 years).  A lot of it however is now slowly shifting to the mid-south of the country (Tarrazu) where the real action is happening. Unlike other provinces, here younger generations are very much involved in coffee farming and are getting motivated by decent pricing. Investments are now resulting in higher productivity and higher quality. Production in Tarazu reached 800.000 quintals is growing its % of the country's total production.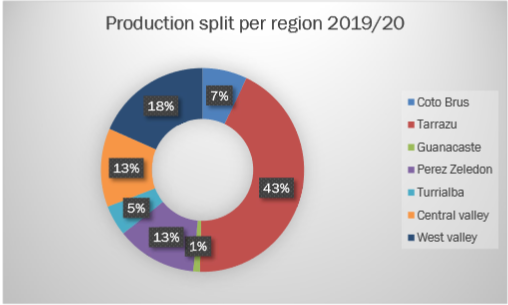 The Coffee Institute in Costa Rica (a governmental body) maintains strict control on the pricing mechanism of coffee exports, which is more and more based on cost of production and not on the ICE level. That being said, there is a particular way of buying coffee which the millers/exporters have to comply with.
For example, picking is heavily regulated. The ministry of labour controls pricing and ensures that pickers get at least their minimum wage ($2/cajuela). An average worker can do around 8-10 cajuelas per day at the center of harvest.
Picking in Costa Rica is done carefully by local people and during peak harvest workers from Nicaragua and Panama come in to help. They pick carefully, because only 2% of unripe/green is accepted at the buying stations. Here coffee is measured in fanegas (250kg) or angarillas (half a fanega). A daily price is written on the front gate and farmers are given an 'adelanto' (cash advance) weekly. This adelanto increases throughout the season in line with quality and the market. Every 15 days the millers need to notify the coffee institute of how much coffee they have received. The institute then closely monitors the price it is being exported for and take an average. If this average is higher than the 'adelanto' received (due to market conditions/quality etc), farmers will receive a re-adjustment payment.
Over the last two years huge amounts of coffee were delivered in a shorter period. It is not uncommon for cooperative members to carry on working (some of them have up to 5000 members each) through to midnight to get the job done, but this has been exacerbated by the timing of the crop in recent years.
Another trend we are seeing is that the number of growers is going down, and the number of mills is going up. In 2003 there were 60,000 growers and now there's about 45,000. In the same period, we went from 95 to 210 millers. Of course, this goes hand in hand with the micro milling boom.
35% of the next crop has reportedly been sold forward/allocated-more and more roasters and importers are booking their requirements further and further forward.