02 February 2018
We headed back to Addis in Ethiopia this January, following our quick trip in September. We were keen to see Bench Maji's progression as a new Union and cup the latest crop from the regions in the area at our partners office in Addis.
Bench Maji continues to improve and grow each year. Many people have not yet heard of Bench Maji which was often sold as Limu – but now they have a new modern logo and are pushing their coffee every day, it will soon be as famous Yirgacheffe, Sidamo and Limu (we hope!).
A Different Approach
Ethiopia has a huge deforestation problem, 80 – 90% of the forest has diminished in the last 400 years. Bench Maji Union strives to maintain the forest and protect the coffee gene pool which is found there.
Participatory Forest Management (PFM) and Bench Maji Union aims to empower communities by giving them clear rights to the forest and its resources, while in return engaging communities to take responsibility for managing the forest. The government becomes the monitor of the forest, rather than the protector. PFM takes an economic view of forests and recognises that they are a renewable resource whose products can be harvested sustainably while addressing specific biodiversity goals.
The local government has helped the Union grow by providing land for processing and for their primary office. Following a conversation with Ato Wondimu Gebre Dikubab, the Bench Maji zonal Chief Administrator (head of the zone), he mentioned that they struggled to aid a large proportion of farmers, but with the help of the union a large amount of small holder farmers can now benefit.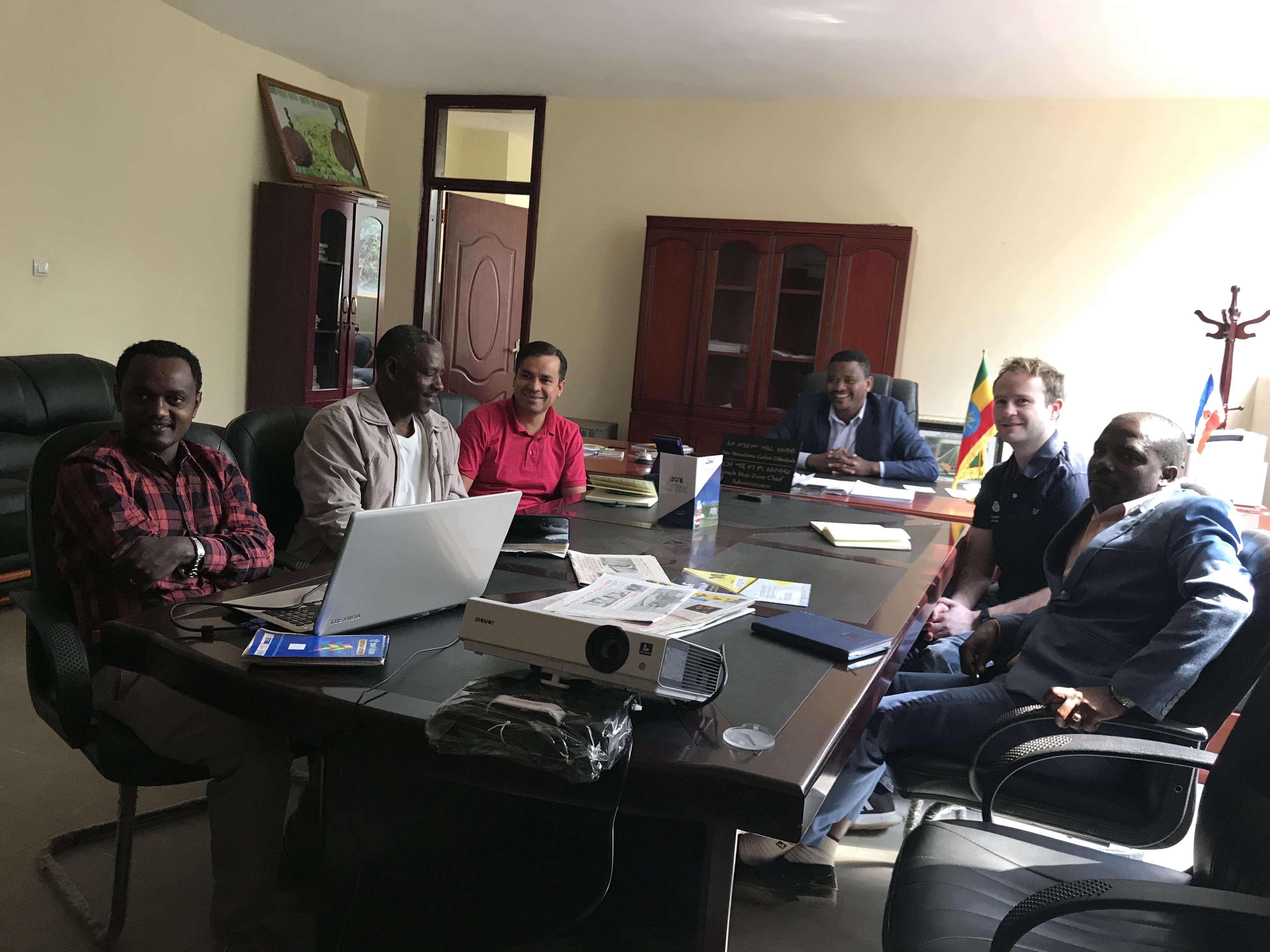 Visiting a newly established Union is an insightful experience as their approach to tasks are always different. A great example of this is how Bench Maji Union uses a local radio station to communicate with farmers on a weekly basis. On the "show" there is a Q&A on environmental and social issues, which supports and motivates farmers to produces the best possible coffee
Sanka Cooperative
Whilst out in the field we were lucky to visit one of Bench Maji's smaller Cooperatives – Sanka Cooperative (in a small village called Sanka). We were the first buyer to ever visit this community which was quite a special moment, and overwhelming when being followed by over 100 people –  an experience that I will never forget.  This is the first year that we will be importing Sanka's coffee and from what we have seen in their samples the coffee has a brand new profile that we look forward to receiving.
New Processes
Following an extremely rewarding trip out West. We flew back to Addis to partake in a huge cupping of the specialty delights which will be travelling to our shores later in the year. Out of 80 different cups of coffee, the most interesting out of the entire table was the honey process. A first for our partner and can only be described as a new profile for Ethiopian coffee – biscuit and caramel with berries.
Along with new and exciting processes, we are hoping to start a new project which we would like to launch before June this year, that will enable us to bring small holder farmer lots to Europe. We shall include a farmer's family information, water TDS that has been used for milling, farm GPS, altitude and general background information of the washing station that will process their coffee.
It is an exciting year for Ethiopian Coffee. New regulations have been drafted and there is word on the street that these could be implemented this year – but this is Africa and unfortunately changes do not happen overnight.