Trade
We see the Trade Team as 'Catalyzing' our coffees. Buying and selling coffees all day – simple right? Not the case! There is a lot of physical experience sat at this desk, importantly blended with the right cultural ethos, managing the numerous risks involved trading our beloved agricultural product.
The farmers range from wealthy land owners to subsistence farmers whose experience and needs vary dramatically. Every country has its own cultural ways, including how they do business. The climate is continually changing, impacting the harvest date, quality and quantity as do pests, diseases and local infrastructure. Political changes all over the world impact price and availably. Pricing moves both in line and out of sync with all of these and so needs to be managed to mitigate disappointment.
DRW traders regularly visit our partners, farmers and roasters alike, to ensure we fully understand the challenges, needs and opportunities from start to end. It's worth noting, some of the guys have not just visited origin on business, they have lived and worked there to experience it first-hand.
Intimate knowledge of that "little green bean" is critical if you are to trade with authority – that's why the DRW Trade team are part of the in-house cupping team, tasting and handling the product on a daily basis – always in tune. Some have also passed the tough "Q-Grader" course – check their email signature to see which ones!
Quality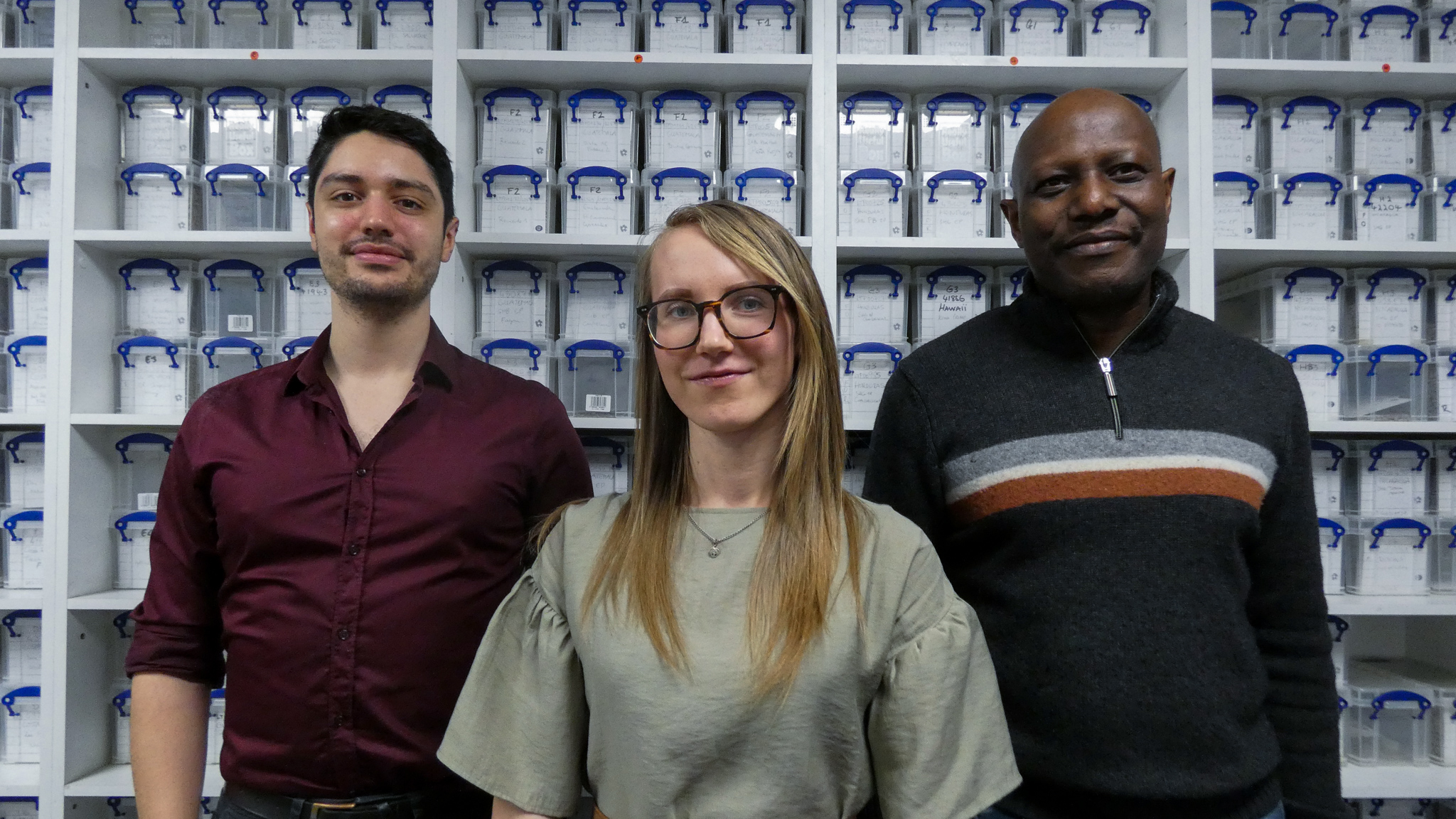 Our Quality Team is also the "right team" – that is to say, they ensure the physical sample matches the quality description. We have a great supply chain so we rarely have problems, but sometimes mistakes or weather happens – if it's wrong, they will not accept it.
We have to be tough here, as the wrong coffee only causes problems for everyone and loses trust, since our customers rely upon us to deliver the right coffee. Every sample (offer, shipment, delivered) is diligently checked for size, defects, moisture, colour. Even the water is tested on a regular basis. It is roasted and then tasted (blind of course) recorded and stored. Roasting, tasting and storage are all carried out in separate rooms to avoid contamination. As you would expect, Q-Grading runs through their veins here as well. Daily Q.A.ing is just part of the daily grind, the other part is hosting client tasting sessions to check and evaluate new and different offerings.
Logistics
The Logistics Team are our magicians. A trader buys a selection of coffees from the other side of the Andes and sells it to numerous roasters, some scattered around the outer reaches of the UK or in small villages located in central Europe, telling the buyer "it's not a problem". It's not a problem because our "logisticers" make it happen, as if by magic.
Ensuring the specific contracts ship in the specified containers with the nominated shipping lines on the nominated ship is not an easy task – "chasing" and "follow up" and words that are used constantly. Considerable co-ordination is required and extracting the correct information in a timely manner is not easy when you are thousands of miles away. Ensuring the correct packaging is used and the right labels put on the sacks should be straight forward but it is not, since there are so many combinations. A small typing error could send the wrong coffee to the wrong place – not just a financial cost but a supply cost for the roaster. Their commitment to get your coffee from A to Z, in sound condition, when you need it, is second to none.
Accounts
Our Accounts Team are the 'oil in the engine' at DRW, conscientiously managing the company cash and reporting on our numbers.
Overseas banking is an evolving process with regulations changing and suppliers continually switching banks, which then need to be constantly monitored in this fraudulent cyber space environment in which we find ourselves. Import payment terms are very limited, generally 48 hours, which is a stark contrast with our sales terms – being more like 48 days. With the volatility of the coffee and currency markets and more expensive coffees running through the books with greater inventory in our UK warehouse, positive cash flow is critical for the smooth running of the business. Managing multiple currencies, with multiple accounts in those currencies is an art form and our team know the location of every £! The outcome: our annual Financial Audit is always performed with ease, our bank love us, our suppliers trust us and our traders can trade!
Where it all began...
I started work in 1982 on the cocoa logistics desk of a commodity trader, where I was also coached about trading and quality control culminating in a period on the LIFFE trading floor before heading off to Papua New Guinea in January 1986. Working for an exporter taught me about the local supply chain, processing methods, buying from farmers, blending, quality control and exporting.
January 1986 saw the move to Australia to work at Rosemount Estates Winery learning about wine production and evaluation, but coffee pulled stronger and in October 1986 I returned to the UK to join DRWakefield under the watchful eye of my father. I excelled at making cups of tea and coffee, doing the washing up, vacuuming, looking after the post and banking runs, delivering samples, typing contracts and anything else that no-one else wanted to do, all for a meagre wage – welcome to the family business, son! Starting at the bottom was the best and only way to prepare me to take over the running of a family business, which is a challenge in its own right. Having moved the trading pattern of the company into direct, transparent trade, promoting sustainable, ethical and certifications in addition to commercial grades, I lead the trading team until 2015. As they say, "I am now working on the business rather than in the business" and supporting the teams who do the hard work.
– Simon Wakefield, Chairman
We know coffee. If you would like to partner with us please get in touch.
Contact